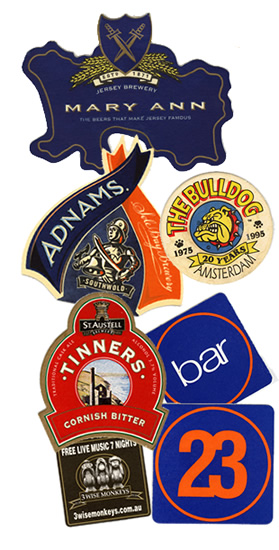 An Eriophora collection: DRINK COASTERS
A collection of coasters from around the world by staff and associates of
Eriophora
design. The total collection currently exceeds 600 unique coasters from many countries including Andorra, Australia, England, Belgium, Canada, Denmark, France, Holland, Ireland, Jersey Islands, Malta, New Zealand, Scotland, Sweden, South Africa, United States of America and Wales.
The collection is grouped into categories according to the central theme of the coaster:
Food and Beverages
-
Beer
[411]
-
Spirits
[39]
-
Cigarettes
[8]
-
Cider & pre-mixed drinks
[20]
Establishments
-
Pubs & clubs
[183]
-
Breweries
[18]
-
Restaurants
[13]
-
Hotels & Motels
[34]
Other
-
Businesses
[50]
-
Miscellaneous
[12]
The number next to the items above indicate the number of records in that category. This does not represent the number of coasters as some coasters have two images (
a
and
b
) representing each side of the coaster.